Installing Signals
Tomar Industries, who hand makes the semaphore signals, suggest drilling a 1/8" hole and using glue to hold the semaphore towers in place. My alternative installation is to drill a hole that gives a press to fit installation with no glue. The shaft of the semaphore tower is 0.092" in diameter. I used a #43 bit, 0.089", which makes a solid snug fit.
I use a short peace of dowel as a base to mount the signal pole on. This gets the mast above the cork road bead. Think 'concrete signal pole base'. If I didn't hate to paint they would be painted Dorian Gray.
Using a vertical mill to drill holes is a bit of over kill but 1) I wanted the holes to be straight up and down, 2) there are 30 to make, and 3) this is the tool I have.
A small piece of aluminum angle set in a wood scrap makes a jig to repeatably position the short wooden dowel for drilling.
I uses a 1/2" forstner bit to get a flat bottomed hole in the cork roadway to prep where the dowel will be glued.
After a little bit of glue dries holding the dowel in place, I use the #43 bit to continue the mounting hole in the dowel down through the base.
Using a loop of #28 wire to pull the LED wires down through the hole, then I press the semaphore into place, completing the top side phase of installation.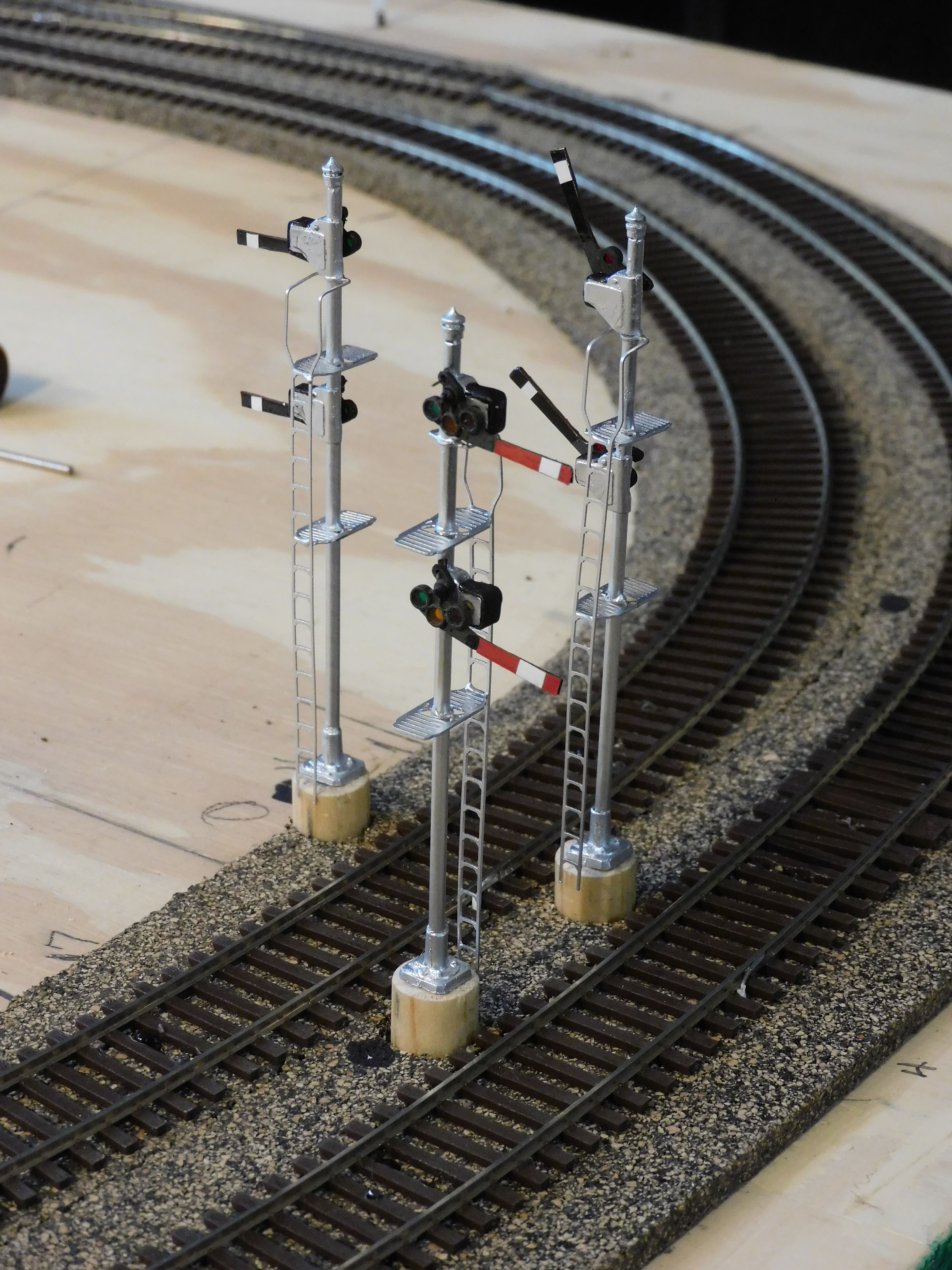 There should be a fourth signal pole in this cluster to 'control' movement between track blocks. The right hand track traveling for left to right should have a signal on the right side of the track. However, the semaphore arm would hang over the edge of the layout and would be damaged when the base is raised to work on the wiring underneath. The same is true at the left end of the layout.